Online
Email marketing services
This website is supported by its audience. When you purchase through links on our site, we may earn an affiliate commission.

iContact Review
---
| | |
| --- | --- |
| Reviewer: | Stephen Qualtrough |
| Developer: | iContact |
| Overall rating: | |
| Price: | $14.00 |
| Purchase: | |
---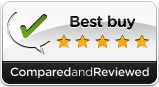 Review summary
Good points
Very easy to use
Powerful reporting tools
Spam test feature
Imports contacts directly from outlook express
High delivery rate
Bad points
Would benefit from some professionally designed templates
No Google Analytics integration
Our verdict
With easy campaign creation, powerful reporting tools, high levels of deliverability and great support, iContact tops the list as our recommended choice in email marketing services.
Full review
iContact has been running since 2003 and since then has amassed over 700,000 active users and picked up several awards on the way. We've heard plenty of good things about iContact, so we checked out the service to see how it compared to the competition.
Setup
The sign-up procedure is very straightforward. If it's your first time creating an email marketing campaign, there is a set-up wizard to guide you through the process.
If you've only got up to 500 subscribers, there is a free service but you may find the features are too limited for the needs of a business.
Email creation
There are 250 HTML email templates available for you to choose from. Some are a little plain, but they are all functional, there's quite a lot of choice regarding the format of the template, from postcard to single-column and multi-column. If you've got your own images, you can upload them to use in the email. And choosing a ready-built template is much simpler than building your own.
However, you can use the drag-and-drop feature to create your own template or go full HTML and use ready-made content to construct an individually styled email. If you don't want to design or build your own template, iContact offers the service for a fee.
Campaign creation
iContact offers a lot of choice when it comes to creating campaigns. Add contacts one by one, make use of the automated subscription management feature (contacts automatically put themselves on or off lists) and segment your list for a more powerful marketing message.
For example, if you want to send an email to the women on your list who are between the ages of 18 and 30, you can do this using the sex and age filters. If you have a store you can send emails to only the customers who purchased a certain product, and send another email to buyers of a different brand or type of product.
For added personalization, and more chance that people will continue reading, you can customize your mail merge further than just the first name. Choose any one of the fields you have the data for.
Deliverability
iContact is compliant with all the latest anti-spam legislation and privacy requirements. You can be sure that anyone who unsubscribed from your emails will not receive future campaigns – this is done automatically.
We like iContact's commitment to quality, and this means deliverability is very high because iContact has whitelist agreements as well as feedback loops with major ISPs.
The spam test feature is really useful. It checks your subject heading and email body content for any words or phrases that might trigger a spam filter. If the spam test does pick anything up anything that might send your email straight into your recipient's junk folder, you can change it before it gets sent.
Tracking & reporting
An email campaign is no use without analysis. Simply sending out emails without tracking progress doesn't help your business much. iContact has a lot of useful reporting tools so you can easily see opens, bounces, click-throughs and unsubscribes. And what is more interesting, you can drill down to see the reasons behind these actions.
There are some nicely presented graphs and pie charts that show you how your recent email campaign went at a glance. The data is well-presented and well-summarized so you don't feel overwhelmed by the statistics.
There may be several key people on your mailing list that you are specifically interested in. The contact level reporting tool is a great addition. It allows you to see how a specific contact has responded to your email.
Features
Surveys - iContact was one of the first companies to offer online surveys. You set up your survey by entering the questions and entering the response type, then review the results and export into a CSV file.
Autoresponders - One useful feature for busy businesses is the autorespond – when someone signs up to your list, via the website or you add them manually, the system automatically sends an email to that contact.
Social media - Make use of the Share Bar on your email that allows readers to add your content to social networking sites. You can also publish a blog as an add-on to your email campaign in order to increase your visibility in the web community.
Ease of use
iContact provides a full range of features but these help you with your email campaign, they don't overwhelm you. The service is easy to use, from creating an email to checking the results of a campaign. You can make your campaigns as tailored or as universal as you wish.
The iContact service is also available on iPhone and Android devices so you can check campaigns and make updates on the go.
Help & support
There are lots of ways to obtain help and support. Telephone support is available Monday - Friday between 4am and 8pm. There is also a live online chat facility, which we found a little slow to respond, but the advisor was very helpful. The average email response time is four business hours.
There are weekly live email marketing webinars which take you through both the basic and advanced features of the service. Alongside the FAQs are plenty of video tutorials that cover a variety of helpful topics, such as how to create an autoresponder and ways to make your email campaign more effective.
Overall
iContact is a great email marketing service that provides everything you need for your email marketing campaign. The service is competitively priced and there are plenty of different pricing plans to meet the budget of any business or organization.
---
Looking for more email marketing services reviews?
See our side-by-side comparisons and in-depth reviews