Online
Email services
This website is supported by its audience. When you purchase through links on our site, we may earn an affiliate commission.

Gmail Review
---
| | |
| --- | --- |
| Reviewer: | Stephen Qualtrough |
| Developer: | Google |
| Overall rating: | |
| Price: | Free |
| Purchase: | |
---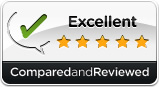 Review summary
Good points
Organize all your mail in one place
Customizable labeling and flagging
Priority Inbox feature
Safe and secure
Bad points
No personalized support
No customized themes
Our verdict
Get super-organized with Gmail and its multiple options for tagging, labeling and prioritizing emails as they flow into your inbox. Gmail is ideal for busy people with a lot of email traffic. Gmail is also easy to use, making it the first choice in email services.
Full review
We've looked closely at Gmail to summarize its most interesting features.
Setup
Gmail is easy to set up. You receive a Google account by signing up with your name, a password and a user name for your email address.
Features
Feeling sociable? Google Buzz is a function for tracking messages from people you follow. If you publish a message in Buzz you'll set up a public profile, which includes information on all the people you follow and who are following you. Messages get delivered straight to your inbox in real time. You can share photos and videos too.
You've got more communication options with Gmail than simple mail. Gmail in the U.S. supports phone calls. As well as communicating by voice or video computer-to-computer, you can call landline or cell phones and receive calls from phones in Gmail.
Security
All Gmail accounts come with automatic spam blocking technology to filter out unwanted emails before they reach your inbox. You can mark emails as spam to help the program identify unnecessary mails. You can also report phishing emails by clicking reply and mailing it to the Report Phishin address displayed. Gmail takes you through a security checklist which they advise you to complete for full account security. If your account has been compromised, follow the Gmail steps to get help and resolve the situation.
Organization
Do you prefer to have your emails displayed in a chain or separately in your inbox? This generally comes down to personal preference. Gmail nests emails in the same chain in your inbox. To see older messages in the same chain you need to click to open it. This system makes it easy to keep track of who's said what in a conversation by keeping all replies in the same place.
Gmail acts like a mini office when you've got multiple email accounts to manage and different people to email from different addresses. If you're setting up a Gmail account you'll probably find it useful to import all the messages from your old accounts. Gmail has a process of linking accounts in this way so you can organize all your mail in one place. Mail Fetcher allows you to receive email from other accounts in your Gmail inbox. You can reply to these mails from your Gmail email address and it will show up as being sent from your other address.
Gmail has a heap of features to help you find emails more easily, read the ones you want to read and skip the ones you don't. Set up filters to keep messages from certain people, for example family, in a separate place and apply labels to these messages. As filtered messages arrive in your inbox you'll see them with a different label. You can choose the colors for the labels so you can see your filtered categories more clearly. Emails you don't class as important can be sent straight to specific folders without cluttering up your inbox, and you can read them by clicking on their label displayed on the left-hand side of your inbox. Star a message to highlight it. Starred messages are then accessible in the Starred section as well as in your inbox.
Going further, Gmail offers Priority Inbox, a feature that automatically identifies what's important in your incoming mail. Do you email your mother regularly? Gmail will think your mother's emails are important and highlight them at the top of your inbox. If you frequently send emails with "wedding" in the subject line, all emails with the word wedding will be classed as important. While the classifying of your emails into "important" and "not important" isn't an exact science, you can also train Gmail to recognize important emails by tagging them as such.
Email creation
Creating an email is a simple process. Click to compose a message, enter the address (Gmail will also suggest a list of address for you, based on the people you email frequently), write a subject line and write the email, then send. All the formatting, such as font and color, can be changed before you send.
Ease of use
Your homepage and inbox are easy to navigate. Gmail features a list of options down the left-hand side of your page and the Inbox option contains all you need for basic email organization. You can customize the list to your liking by dragging and dropping other labels. The process of setting up filters and flags is easy to follow and, once you've set up the feature, maintaining it is automatic.
Help & support
The help and support section in Google covers all the services Google offers, so it can be a little difficult to pin down exactly what you want to know. However, the information is comprehensive and you should find the answer to your Gmail question. If you don't find an answer, post a question on the Help Forum. If you're still having problems with an issue like logging in or getting error messages, you may be able to email for a resolution.
Summary
Gmail is a free email service and one of the most popular in the world. By signing up to Gmail you have access to an efficient, quality email service that gives you a whole host of other features from your inbox. We've looked closely at Gmail to summarize its most interesting features.
---
Looking for more email services reviews?
See our side-by-side comparisons and in-depth reviews