Online
Online tax preparation
This website is supported by its audience. When you purchase through links on our site, we may earn an affiliate commission.

TurboTax Review
---
| | |
| --- | --- |
| Reviewer: | Stephen Qualtrough |
| Developer: | Intuit Inc. |
| Overall rating: | |
| Price: | Free |
| Purchase: | |
---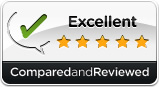 Review summary
Good points
Ideal for beginners
Helpful, logical and streamlined
Excellent help & support available
Clean, clear interface
Bad points
Comparatively high price
Our verdict
Intuit TurboTax helps make preparing your tax return quick, easy and stress-free. With an intuitive layout and logical step-by-step approach, TurboTax guides you smoothly through the process of filing your return. This is a well-designed program that also comes with mobile app versions.
Full review
TurboTax has been around for over 25 years and has long been the major player in the tax software niche. The TurboTax calculations are guaranteed 100% accurate - if you end up paying a state or IRS penalty because of a TurboTax error, you'll get the penalty back plus interest. We looked in-depth at what TurboTax has to offer.
Tax Products
The TurboTax Federal Free Edition is, as the name states, free for filing simple tax returns both federal and state, using forms 1040EZ and 1040A. This is great for millions of people who have only basic tax needs – the fee-free deal is no-catch. If you need extra features, the Deluxe version ($34.99) is designed for maximum tax credit and deduction discovery, searching over 350 sources for these refunds. Premier ($54.99) is for rental property and investments, while Home & Business ($79.99) combines personal taxes with small business and self-employment. All of the paid versions are higher in price than competitors, but they do contain all the features you need to file in these categories.
Mobile apps
When you're looking for a mobile app to accompany the PC version of your online tax software, it is important that you get the same smooth, easy management and the same features in both. TurboTax provides this - impressive Android and iOS versions you can use to handle simple and complex tax situations. TurboTax is as easy to use on a tablet or mobile as it is on the PC. The mobile apps match the effective design of the overall software, and include extra features such as the ability to upload your W-2 by taking a picture of it with your phone. The information is then used to populate the relevant sections of the right forms.
Security
TurboTax implements significant security measures to protect your account and your personal details. To access your account you enter a password and a single-use code, or answer security questions. And if your Smartphone allows it, you can use a fingerprint password to gain access to the app. TurboTax also uses SSL encryption when sending returns to the IRS, and you can monitor login and update activity on your account as well as via email notification.
Extra features
Audit - TurboTax includes integrated audit support if you need it at any time during the year.
Health care focus – TurboTax provides dedicated focus on health insurance as it relates to tax.
Import - If you have previous tax information in PDF files you can import it into TurboTax but you need to upgrade if you want to prepopulate your state forms with information from last year.
Ease of Use
TurboTax immediately makes you feel at ease with the filing process. You start by answering questions about your life events and personal circumstances so that the software recommends which form you need to fill out. The questions continue as you move through the guided interface in order to calculate the correct deductions and refunds. You do, however, have a degree of autonomy over which order you answer the questions, and whether you skip sections. The whole process is extremely clean and clear, and easy to use.
A built-in audit risk meter warns you if sections of your tax filing could give rise to an audit. You are then given guidance about what to do to correct the weak spots. TurboTax also gives you enthusiastic encouragement in the form of screens decorated with exclamation marks and positive messages when you progress through the different stages of tax filing. Many people will appreciate this attention, while others could possibly find it annoying.
Help & Support
The support options with TurboTax are superior, and include access to the expertise of certified public accountants, tax attorneys, and licensed enrolled agents. This is via SmartLook, an innovative feature that connects you with an expert. They can see your screen, draw on it to guide you, and talk you through any issues you may be having. Phone support is also available.
You have access to a complete knowledge bank of information about the tax filing process and common tax issues, video tutorials, glossaries and forums - in the community pages you can access previously asked questions from people using the software, or ask your own. Assistance is built into the program with help topics and definitions easily accessed when you are filling out information.
Overview
The easiest tax filing system around, TurboTax takes the stress out of preparing and filing your taxes. Intuit's online tax software is simple, effective, and accurate. It is highly recommended.
---
Looking for more online tax preparation reviews?
See our side-by-side comparisons and in-depth reviews