Software
Parental control software
This website is supported by its audience. When you purchase through links on our site, we may earn an affiliate commission.

Net Nanny Review
---
| | |
| --- | --- |
| Reviewer: | Stephen Qualtrough |
| Developer: | SafeToNet |
| Overall rating: | |
| Price: | $49.99 $39.99 - $10 off |
| Purchase: | |
---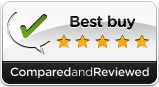 Review summary
Good points
Proxify server proof
Automated screenshot capture
Blocks illegal file sharing
Remote management
Instant messaging monitoring
Bad points
The social networking monitor is somewhat limited
Our verdict
Simple to use, comprehensive and most importantly effective - everything you would want from parental control software.
Full review
Net Nanny is currently considered to be the most effective parental control software available. We've checked out Net Nanny's offering to see where it scores points.
Setup
Net Nanny is great for computer-illiterate parents because it installs automatically. The set-up takes just a few minutes and then you're up and running.
You pay for this product annually, so if you stop your subscription, the software stops working. Net Nanny comes with five licenses.
Filtering & blocking
Websites – Net Nanny filters website content using real-time contextual analysis. If a violent or disturbing story appears on a website in the morning, that website will be blocked. However, when the story is removed or archived the website can be accessed again. You can block or set an alert warning for different types of web content. For example, you can choose to block web content that contains pornography. You can block specific websites even if they are not pornographic. Net Nanny doesn't just block pornography; it restricts access to hate sites and exploitative chat rooms. Net Nanny blocks content in other languages, too.
Net Nanny gets around the problems that can occur when children turn off the "Safe Search" option in the search engine and search for images, potentially turning up pornographic or unsuitable pictures. Net Nanny turns the "Safe Search" tool back on as the search takes place and the only way you can stop this is by using the admin password.
IM & chat – Net Nanny doesn't skip protection when it comes to the instant messages and chat your kids send and receive. The software monitors the content of IMs and sends you an alert if inappropriate or possibly dangerous language and messages turn up in your child's account.
Social networks – Monitor what your kids are doing on Facebook or other social networking sites through the "Social Network Dashboard" feature on Net Nanny. Here you can view a picture of your children's social networking activities.
Games – Net Nanny is in partnership with ESRB and sets age-based restrictions on video gaming based on the ESRB rating system and also on the software's recognition of the content of video games.
Other – You can block, or partially block, peer-to-peer downloading and access to chat rooms.
Effectiveness
One major problem with parental control software is that older children can often figure out (pretty quickly) how to by-pass the filters by using a proxy server. Well, the developers behind Net Nanny claim that it is currently the only program that can filter content hidden behind an unknown proxy server. We tried to get around the filters, but just couldn't. This is a seriously powerful development and gives it a huge advantage over other products.
Net Nanny has made it very difficult for children to bypass Net Nanny's settings. A password is required to uninstall or make any alterations to the program's settings.
Time controls
There are plenty of time controls available. You can set the number of hours your child can use the internet on a weekly or daily basis. You can also set which hours of the day they can use the internet.
However, the time controls are somewhat weak. It's a blanket on or off for all online activities. It would be much more useful it was application-specific. So, for example, you could block Facebook during the early evenings, but enable Google when they are doing their homework.
Administration
You, the parent, are in control with Net Nanny because you hold the password that allows you to configure the settings to your needs. You can have full access to the Internet while your children have limited and protected access. You can set up profiles for different users. You can either customize each one or you can select the predefined profile settings for a young child, child, and teen.
One of the bonuses of Net Nanny is the ability to manage your filters and your setup from anywhere, using the software's remote management tools.
Reporting
Net Nanny offers all the reports you need and probably more – there's not much missing in the software's advanced reporting tools. You can see every website your children have visited or tried to visit, the full text of every instant message, and a full account of social networking activity.
Alerts are sent by email. But you're probably not going to be monitoring your email 24-hours-a-day so you'll need text alerts – Net Nanny sends notifications to your cell phone every five minutes so you know immediately if your child is accessing dangerous content.
Ease of use
The interface is incredibly user-friendly, with the settings logically grouped.
If you want a quick and easy experience, you can use the settings as they are, straight out of the box. But if you want a personalized filter, it's easy to adjust the settings to suit your needs. If you're not sure what sites and activities are appropriate for your children, there's a set-up assistant that helps you decide based on your child's age.
Help & support
You can call on the toll-free technical support during business hours, whether you need help configuring the settings or you have questions about how to access reports on your child's internet use. There's also a user forum, a knowledge base with a number of useful articles, and you can receive tech support via email.
Overall
Net Nanny as a product continues to go from strength to strength. Nanny allows you to control how your family uses the Internet, based on your own values and needs.
Bear in mind you have to pay extra for additional licenses, which could end up more expensive than using pricier software that includes three or more user licenses.
---
Looking for more parental control software reviews?
See our side-by-side comparisons and in-depth reviews