Software
Disk defragmentation software
This website is supported by its audience. When you purchase through links on our site, we may earn an affiliate commission.

O&O Defrag 26 Review
---
| | |
| --- | --- |
| Reviewer: | Stephen Qualtrough |
| Developer: | O&O Software |
| Overall rating: | |
| Price: | $29.95 |
| Purchase: | |
---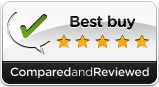 Review summary
Good points
Defrags hard drives quickly and effectively
Features an easy-to-use interface
Simplifies most functions without reducing their capabilities
O&O Software provides customers with excellent support
Bad points
Lacks several features offered by similar products
Our verdict
When it comes to disk-defragmentation utilities, O&O Defrag 26 is certainly one of the best. Its simplicity and effectiveness make it ideal for novice users. Experienced PC users, however, may find that it lacks too many features to be used as their primary disk-defragmentation application.
Full review
Windows systems need their disks to be defragmented occasionally to keep them running in an optimal manner. When data becomes fragmented, files are slow to load, programs can become unresponsive, and a system's reliability can suffer. Fortunately, there are a variety of software utilities available that were designed to defragment data and prevent hard drives from becoming sluggish. O&O Defrag is one of these utilities, and we were quite eager to test its ability to defragment our system's drives.
Setup
O&O Disk Defrag supports Windows 11, 10, 8 and 7. Most users should have no issues getting this program installed and working on their systems. On our system which runs a 64-bit version of Windows 10, O&O Defrag managed to install in just a few minutes. We encountered no issues while installing this product. The first time that we ran it, information concerning our system's hard drive was displayed as the software analyzed our drives for fragmentation.
Defragmentation
While O&O Defrag can easily be used to perform manual disk defragmentations, it also features the ability to optimize drives in the background. While performing automatic disk optimizations and defragmentations, O&O Defrag does not interfere with other applications. In fact, it can even be configured to run only while the screen saver is up. Also, users are able to pause O&O Defrag's tasks and resume them at any other time. Regardless of how users choose to defragment their drives with O&O Defrag, this software gets the job done in a quick, efficient, and non-obtrusive manner.
Effectiveness
Several days after installing O&O Defrag, the software already had the opportunity to defragment and optimize our drives multiple times. Even without analyzing the software's reports, we could tell that there was a difference with our system. Everything on our computer, from random applications to video files, was faster to load. After looking at the reports, we realized that O&O Defrag managed to almost completely defragment our main drive, which contained lots of fragmented data.
Reporting
Before performing defragmentation, O&O Defrag displays information concerning the number of fragmented files, the percentage of fragmented data on the hard drive, and more. Once the defragmentation process is complete, O&O displays the same information again so that users are able to see how much of an improvement has been made. In addition to this data, O&O Defrag also provides users with plenty of other information from its reporting tool. Fragmented files, for instance, are illustrated in graphical reports created by this tool.
Features
Disk checker – This handy feature checks drives for errors and potential problems.
Defrag scheduling – With O&O Defrag, it is easy to schedule unattended defragmentation sessions. This feature is great for users who want to ensure that disk-defragmentation sessions occur on a regular basis.
Ease of use
O&O Defrag is one of the easiest disk utilities that we have ever used. Its functions are very straightforward, and many of these functions can be automated. The interface is clear and simple, and this software even presents reports in an easy-to-understand manner that most novices should have no trouble grasping.
Help & support
O&O Software provides extensive support for their products. Not only do they offer online help pages, FAQs, and more, they have also written a manual for O&O Defrag, which is available for free in the form of a PDF. For a period of 90 days, registered users of this software also have access to free support via chat, e-mail, and telephone. In our experience, the direct support provided by O&O Software was useful, and we received responses to our e-mail inquiries in just a few days.
Overall
O&O Defrag 26 is one of the most popular disk-defragmentation utilities for one reason: it works. It is also one of the easiest utilities to use in this software category, which is both good and bad. Its simplicity is great for novices and users who want a quick, simple solution to fragmented data.
Unfortunately, this simplicity does come at a price. O&O Defrag lacks many of the defragmentation features that competing products offer, and it is certainly not as customizable. While we enjoyed using O&O Defrag quite a bit, we would hesitate to recommend it to experienced computer users over products like PerfectDisk. For novices, on the other hand, this is a great option.
---
Looking for more disk defragmentation software reviews?
See our side-by-side comparisons and in-depth reviews