Software
Disk imaging software
This website is supported by its audience. When you purchase through links on our site, we may earn an affiliate commission.

Acronis Cyber Protect Home Office Review
---
| | |
| --- | --- |
| Reviewer: | Stephen Qualtrough |
| Developer: | Acronis |
| Overall rating: | |
| Price: | $49.99 |
| Purchase: | |
---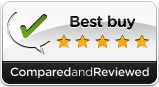 Review summary
Good points
Error free disk imaging
Integrates into the Windows Control panel
Offers both incremental and differential backups
Slick new interface
Bad points
Customer support is not free
Novices may have difficulty using this software
Our verdict
The new version of Acronis Cyber Protect Home Office is loaded with new features, a vastly improved interface, reliable disk imaging, and excellent OS integration. Cyber Protect Home Office has always been an excellent product, and it just got better.
Full review
According to Acronis, Cyber Protect Home Office provides home users with everything that they need to backup their systems reliably for disaster recovery. We have used previous versions of True Image Home, and we have no reason to doubt Acronis' claims. In fact, it has been our disc-imaging product of choice for some time, and we were quite eager to find out what improvements the 2020 version has to offer.
Setup
Installation is incredibly easy. On our Windows 10 PC, this software managed to install without issues in just a few minutes. Following the installation, various wizards, such as the "One-Click Protection" wizard, are available to help users through the setup process.
Imaging
It integrates well into the Windows control panel to make life easier for users, and the backup process can be started easily. Before starting the backup process, users select from 3 compression levels: normal, high, or maximum. Of the options, maximum compression will take up the least storage space, but it will also take the longest time to compress. The location of the backup must also be selected before starting the process. Backups can be saved to external drives and optical media. Backups can also be saved to local hard-drive partitions if desired.
To make the process of backing up files easier for users, True Image Home has several pre-configured backup schemes to choose from. These schemes each aim to achieve different things. One scheme, for instance, aims to save hard-drive space; it is perfect for users with little storage space. There are a variety of other schemes to choose from, and most users should be able to find at least one that suits their needs.
Restoring
True Image is capable of restoring operating systems and individual files. Its "Clone Disk" feature makes it easy to completely copy a hard drive's data and restore it at a later date. This saves a great deal of time since users are able to restore files, applications, and an operating system with little more than a few clicks. Of course, users are not required to restore the entire contents of a drive, and it is even possible to restore individual files without much effort.
Effectiveness
While using True Image, we never encountered any errors. Everything from backups to restorations went as expected, and the additional features also performed quite well. Of all the disk-imaging software that we have tested, True Image Home is easily one of the most reliable products.
Features
Backup scheduling - There are plenty of back-up scheduling options available. Users simply set backups to run while the computer is idle or at preset times.
Online backup - An online backup service is available through the Acronis website. Customers automatically get 2MB free. Users who want more online backup space will need to pay for an upgrade. Its worth noting that it is possible to save backups directly to an FTP server.
Sandbox - One of our favorite features is the "Try & Decide" function, which was added to the previous version of this software. We are very pleased to see that Acronis decided to carry this feature over to the latest version of True Image Home. Essentially, it is a sandbox that acts a testing ground for unknown software.
One-click backup – Users who are new to disk imaging may want to use the one-click backup feature, at least in the beginning. It is designed for novice users, and it increases the speed and ease of the backup process considerably.
Ease of use
Those who have used previous versions of True Image before will be pleasantly surprised by how much easier the latest version of this software is to use. The new design even includes a drag-and-drop interface. Unfortunately, however, it is still not incredibly intuitive, especially when compared to some of its competitor's products. Overall, while the interface feels fresher and is certainly an improvement, it could still use some revisions.
Help & support
There are several well-written guides on the Acronis website, and there is also an active forum. In fact, for installation information alone, there are several documents available for free on the Acronis website's support section. Unfortunately, users who are interested in speaking or chatting with support staff will need to pay an extra fee.
Overall
Acronis Cyber Protect Home Office is an excellent disk-imaging product. Its core features, creating backups and restoring files, work flawlessly, and this software comes with many extra features as well. This version of True Image Home has a revamped interface, which is definitely an improvement over previous releases. Still, it is not as user friendly as competing products, and novices may be frustrated by its lack of intuitiveness. Regardless, this is an extremely powerful, fully featured disk-imaging product that we highly recommend.
---
Looking for more disk imaging software reviews?
See our side-by-side comparisons and in-depth reviews