Review summary
Good points
• Simple user interface
• Interface can be skinned
• Very light on system resources
• Free Mac protection copy
Bad points
• Trend Micro does not participate in many independent lab tests
• Poor reports on malware blocking and removal
Our verdict
While Trend Micro has delivered on its goal of creating an unobtrusive, resource-light antivirus program, its effectiveness is called into question as the company disagrees with the testing procedures of many of the large, independent laboratories.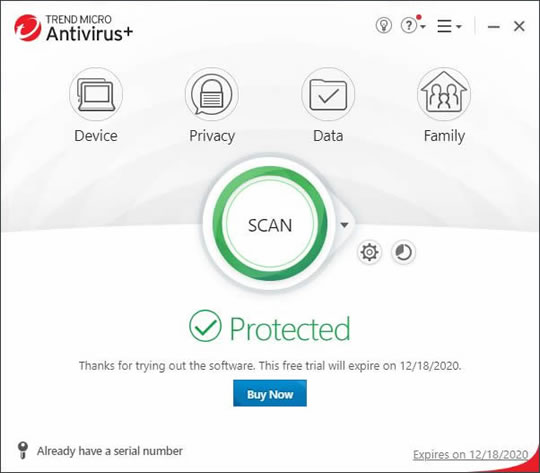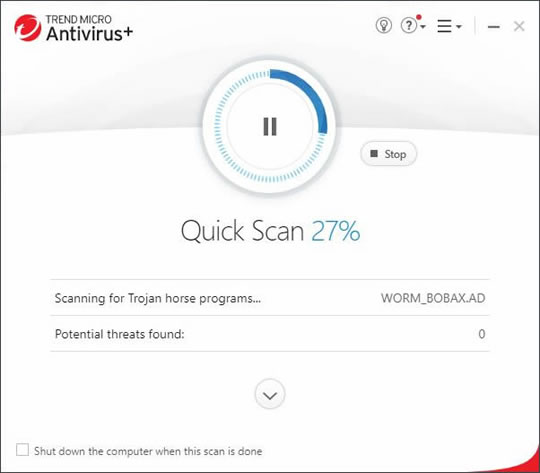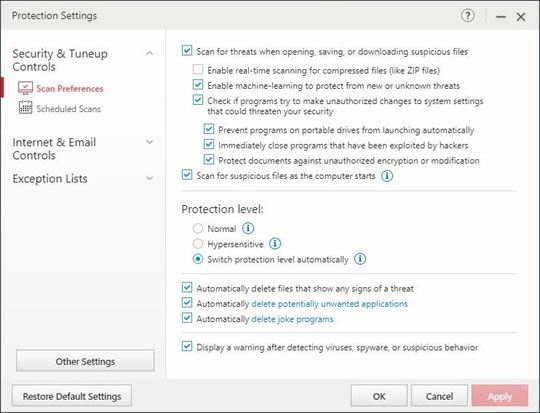 Full review
Trend Micro was founded in Los Angeles in 1988, moved to Taipei, and then to Japan where it took over a Japanese software firm to form Trend Micro Devices in 1992. Soon after, the company made a deal with Intel to produce antivirus software for sale under Intel's name, and in 1993 the company worked with Novell to bundle the software with its operating system. Trend Micro has worked hard recently to boost its antivirus software offering. We looked closely at the Trend Micro program to find out if it's a good buy.
Setup
Antivirus+ is available as a direct download from Trend Micro's website, with a backup DVD available for an extra charge. Titanium's system requirements are comparable to other antivirus programs, needing about a gigabyte of memory maximum and 500MB of hard disk space.
Protection
Antivirus+ is designed to protect systems against a whole host of standard viruses, botnets, malicious cookies, hackers, Trojans, worms and fake antivirus malware. Trend Micro has also boosted the protection with more effective detection and removal of rootkits. The software automatically offers to create a rescue CD if necessary in order to remove rootkits.
Antivirus+ software works using signature security alongside real-time protection. The cloud-based element of the protection garners information on new viruses from the online community and then alerts you to new threats as they appear. There's also a file behavior protection that analyzes files to see if they can be trusted.
Internet – You can surf the net in safety as Trend Micro automatically blocks access to malicious websites and the software prevents malicious downloads.
Email – The program also works to block email threats by protecting from email based viruses.
Effectiveness
Antivirus+ effectiveness is slightly difficult to measure in terms of independent lab certifications and awards because Trend Micro's developers do not like to participate in most testing programs. Because few labs test the software at all levels, the developers feel that their multi-leveled program might not receive a fair break.
In the on-demand test by AV-Comparatives.org, Antivirus+ was given a Standard, the lowest passing rate. West Coast Labs certifies the software for both virus removal and cleanup.
While most tests are static tests, Trend Micro feels that the software should be tested for the effectiveness of the whole products. Consequently, AV-Test.org ran a whole product certification test, and Antivirus+ passed with an average score of 13, with 11 being the bare minimum passing score.
Scans & updates
The Smart Protection Network keeps most of this software's antivirus signature data in the cloud, which means that the product can run with a very small footprint. The scans that take place on an ongoing basis are incredibly unobtrusive, and you won't really know it's there. You receive a security report once a month detailing the actions taken and you can download this report at any time.
A regular full scan took us a little longer than average to complete, although it's not actually essential to run a full manual scan because the software operates in the background to get the job done when the computer is idle.
Features
Antivirus+ boasts a laundry list of features, making it a full-service security suite, including some features not typical to antivirus software. The most noticeable of these is the ability to create a skin for your Antivirus+ interface screen; it may not be the most useful feature, but it is interesting nonetheless.
This version of Antivirus+ also includes a free copy of Trend Micro's Smart Surfing for Mac systems.
Ease of use
Antivirus+ boasts an exceptionally easy-to-navigate interface. We think it's one of the simplest and most user-friendly around. You can see the current level of security protection by checking the main screen. You have the option to choose a quick scan, an in-depth scan or a custom scan at any time, meaning the software is suitable for beginners but also offers more customization for the more experienced user.
Help & support
You can get support from Trend Micro online through the knowledgebase, or on the discussion board. You can also call the customer service and technical support number of use the live chat function to get your questions answered. Trend Micro customer support is capable and comprehensive, so you should find the answers to your questions. If you have problems that can't be solved in this way, premium support is available at an extra cost.
Overall
While Trend Micro Antivirus+ Security is a fully-packed security suite in a nice looking package, its performance still does not quite measure up to its competition with its poor removal of malware and poor phishing detection. That said, Trend Micro is certainly on the right track with some very attractive features and a great user interface.
Add your review
You've heard our opinion. Now we're keen to hear your personal experience of using this software.
Looking for anti-virus software reviews?
See our side-by-side comparisons and in-depth reviews