Software
DVD copying software
This website is supported by its audience. When you purchase through links on our site, we may earn an affiliate commission.

BlazeVideo DVD Copy Review
---
| | |
| --- | --- |
| Reviewer: | Stephen Qualtrough |
| Developer: | BlazeVideo |
| Overall rating: | |
| Price: | $59.94 |
| Purchase: | |
---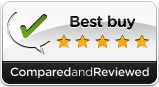 Review summary
Good points
High quality copying
Easy customization of contents to copy
Bad points
Fixed 4:3 aspect ratio on the preview
Our verdict
Blaze DVD Copy 7 performs well and offers good customization and saving options. It's easy-to-use and gives good results.

Discount coupon for 28% off: BVDVDCOPY
Full review
Setup
After selecting your install language the program is very quick to install. After installation there are no complicated settings to select, however you can optionally change the interface language, burn engine and workspace folder. You can also select where to keep temporary files after a burn, or indeed turn off your computer when completed which could be useful if you kick things off before going out or to bed.
Copy features
BlazeDVD can work in a number of ways, giving you various options for source and target. You can: Copy/burn from DVD disc, Copy/burn from DVD folder on hard disk, Burn to DVD disc, Copy to DVD folder on hard disk, Create ISO image file and Convert as MPEG4 file.
You also get multiple copy modes so you can choose:
Entire Disc – copies everything on the disc including any special features, subtitles and language options etc.
Main Movie – copies only the main movie title and removes unnecessary intros, menus, language and sound tracks that just take up disc space.
Customize – select only the elements you want from the disc, e.g. favorite chapters and remove the rest. Then choose the movie size that's best for your chosen output option.
Split Disc – to avoid potential lose of quality when trying to compress a DVD-9 movie onto a single DVD-5 disc you can instead split the movie across 2 DVD-5 discs to ensure the best quality video.
You can also split a disc to multiple MPEG4 files. BlazeDVD supports AVI-MPEG4, ASF-MPEG4, MP4-MPEG4, 3GP-MPEG4 or PSP-MPEG4 to fit for most popular portable devices such as MPEG4 player, Sony PSP, Apple iPod, PMP and 3G smart phone.
BlazeDVD does have a built-in compression engine which allows fast video compression so you can fit a DVD-9 movie into one regular DVD-5 disc. There is a loss of quality but it's only really noticeable when you get close to the screen.
You can copy most types of source DVD (as well as both NTSC and PAL formats), with most target DVD discs supported: DVD-R(W), DVD+R(W), DVD DL-RW and DVD DL+R. BlazeDVD is also compliant with most popular DVD burners, including dual-layer ones so you can copy a dual-layer 8.5GB disc (DVD-9 to DVD-9 copy). Copy protection is removed automatically so you don't need to worry about region specific content.
Speed & quality
BlazeDVD advertises that a 2-hour DVD movie copy will finish in around 45 minutes. This is obviously dependent your system performance but it seemed pretty accurate with our test system. Copy quality was impressive (when not compressed), and cloning worked well.
Ease of use
BlazeDVD had a user-friendly interface with a simple process:
Step 1 – select your source drive - if you have multiple – else this is done for you if you put in a disc.
Step 2 – select your target. Be it save to your computer or other connected device (e.g. iPod if connected), or directly burn to another disc.
Step 3 – select the output format. If you're saving to a DVD choose between DVD-5 and DVD-9, or if you're saving to a computer or device select the file type (e.g. .mp4, .avi .3gp) and video dimensions and quality desired (which determines file size).
Then select your copy mode and hit the Start button. It's pretty much a one click copy if you've copying DVD to DVD.
There's a preview window which can help you confirm you've got the right chapter when customizing your burn, though this is fixed to 4:3 ratio so looks a little weird with most widescreen movies.
There are also visual indicators to let you know the output size and the video quality expected (100% unless compression is required).
Help & support
The main Help link in the program sends you to BlazeDVD Help website. This is comprehensive covering all the functionality with simple guides and related screenshots. If you need Technical Support then there are links for Troubleshooting and an FAQ. If they don't solve your issue then a technical support email address is also available.
Overall
Blaze DVD 7 is very, very similar to some of the competition but with a slightly improved user-interface. Good for both DVD cloning and saving DVD content to other movie formats for use on devices such as a Smartphone.
---
Looking for more dvd copying software reviews?
See our side-by-side comparisons and in-depth reviews