Software
System utilities software
This website is supported by its audience. When you purchase through links on our site, we may earn an affiliate commission.

Norton Utilities Ultimate Review
---
| | |
| --- | --- |
| Reviewer: | Stephen Qualtrough |
| Developer: | NortonLifeLock |
| Overall rating: | |
| Price: | $39.99 |
| Purchase: | |
---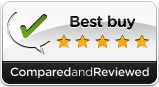 Review summary
Good points
Competitively priced
Comprehensive set of tune-up tools
CPU Optimizer, RAM Reclaimer, Fast Write & Power Optimizer tools are great additions
Stylish user interface
One-click tune-up capabilities
Bad points
No desktop widget
Our verdict
Our number one spot for system utilities, Norton Utilities Ultimate is a first-class system utilities software program. One of the best-known brand names in computer security, Norton offers a professional program at a reasonable price - doing the basics very well and with some exciting advanced features.
Full review
With a strong background in protection and security, NortonLifeLock (formerly Symantec) keeps their track record strong with this updated version of their utility suite. Norton Utilities Ultimate is a stand-alone product to be used in conjunction with other protection and security software to keep your computer up to date and providing the highest performance possible.
Pricing
A one-year subscription to Norton will set you back $39.99. This competively priced considering that Iolo System Mechanic Review typically retail nearer the $50 mark. You can use Norton on up to 3 different personal devices.
Setup
Installation with Norton is straight forward, mainly thanks to the clear on-screen instructions. If this is the first time you have installed a Norton product, it should go very smoothly. A routine "point and click" procedure for installation provides the user with a practically fail-proof setup. If you have a previous version of Norton Utilities already installed you will be forced to uninstall it before setting up the latest version.
The main window for Norton Utilities Ultimate has a fresh new look.
Once setup is complete, you are presented with the main window. It is self-explanatory and laid out in a clear and easy to understand manner. In the main panel, there is a system status to the left and barometer to guage the health of your PC to the right. In the left-hand menu there are option to access: Toolbox (Clean, Speed Up and Protect), Automatic Care (Scheduling) and Real-Time Boost (Processor, memory and Drive Optimization).
Repair
Norton Utilities Ultimate sets a higher bar for system repair compared to competing utility suites. The Startup Optimizer can potentially help applications launch faster, as well as give the user notice when repairs are needed. To prevent crashes and loss of information, the Disk Defragmenter can be run to check for hard drive errors. Housed all in one utility suite, these tools are easy to utilize and handy when unexpected issues occur.
Optimization
Norton Utilities Ultimate offers excellent tools to optimize your system. For example, the Startup Manager helps you control which programs load, quickening the boot process, while the Disk Defragmenter increases defragmentation performance.
Management
The Automatic Care feature allows for pre-scheduled analyzing and repair of your PC. You can schedule in days, weeks and months how often you want it to run. It can be set to never if that's your preference. You also have the handy option to wake the computer to preform an analysis - if in sleep mode.
Automatic Care in progress.
Security
The "All-in-One PC Cleanup" feature allows peace of mind by permanently deleting hidden records or files that could be targeted by cybercriminals. As an additional security feature, Norton Utilities Ultimate routinely removes previously-stored passwords on your system, including those in your Internet browser. This is a security feature to protect you from unwanted password retrieval by outsiders, but to some, it can be an irritant if they don't have those passwords memorized or stored elsewhere.
Ease of Use
From the ease of installation to making updates and automatic scheduling so those necessary maintenance items get done, Norton Utilities Ultimate is great for all levels of PC user.
Help & Support
Historically, Norton has not been known for excellent telephone customer service. Jumping through hoops and being transferred ten times before getting to a representative can be frustrating, to say the least, but their updated online chat feature has changed how their support is viewed. Simply log in from the Norton support website and you can quickly and easily chat with knowledgeable support personnel via instant message through the chat manager. With the newer and easier-to-use chat program, Norton support has raised its rankings from bad to good.
Overall
Features like the CPU Optimizer, RAM Reclaimer, and Power Optimizer make Norton Utilities Ultimate stand out among the competitors. Its professional yet simplistic layout make it a shoo-in for novice users. Despite lacking security tools that other utility suites include, Norton Utilities Ultimate remains a well-rounded package that covers many of the most sought-after features.
---
Looking for more system utilities software reviews?
See our side-by-side comparisons and in-depth reviews