Software
Internet security software
This website is supported by its audience. When you purchase through links on our site, we may earn an affiliate commission.

AVG Internet Security Review
---
| | |
| --- | --- |
| Reviewer: | Stephen Qualtrough |
| Developer: | AVG Technologies |
| Overall rating: | |
| Price: | $54.99 |
| Purchase: | |
---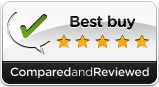 Review summary
Good points
Good malware detection
Lightweight package
Bad points
Old-fashioned firewall
Parental Controls are not included
Poor malware removal
Our verdict
AVG are one of the best-known and most respected companies in terms of antivirus software, and have continually improved their packages each year with the addition of antispam, identity theft protection and many other features, with the aim of offering the complete internet security solution. The AVG Internet Security package does improve upon their previous security suites, but falls a little short in some key areas.
Full review
Setup
We didn't encounter any major issues when installing AVG Internet Security. It's a straightforward process, and while not quite as fast as some other packages, it still installed quickly and we were up and running within a few minutes.
The interface, while competent, could do with some improvements. The main screens are well presented and not too complicated, while the AVG overview pane makes navigation straightforward. There is also a handy indicator at the top of the screen that informs of any issues that need to be fixed. But as soon as you get to the advanced settings, AVG seem to have abandoned this simple approach in favour of something far more complex and difficult to navigate. This won't put off advanced users, but for a lot of people this could be quite intimidating, and does let down the interface a touch.
Protection
AVG Internet Security's technology protects against viruses, Trojan horses, worms, Spyware and Adware. It employs intelligent cloud-based technology that automatically updates to keep on top of any emerging threats, and the AVG Community Protection Network enables AVG to identify new threats via customer information.
Browsing protection comes in the way of AVG's LinkScanner technology. This comprises of three shields (Surf, Search and Online) that monitor websites for phishing scams, malicious pages and also checks downloads and javascript files. The three shields work well together, and when combined offer very good protection for your machine.
Firewall – The AVG firewall automatically decides on network permissions, based on a database of trusted programs, and anything that isn't on the database is flagged up for the user to decide the access levels. Most firewalls we have seen in modern security suites have long-since dispersed with this method of detection, opting instead for an 'intelligent' firewall that makes these decisions for you, which is a far better, and less dangerous, way of doing things. There are three protection profiles offered with the firewall; home network, business network and public network. While each of the profiles can be configured through the settings to improve things, this isn't recommended to anyone but the most savvy of users. Aside from the issues raised above, it can also be programmatically disabled, unlike the majority of modern firewalls.
Parental controls – Not included, an additional extra purchase required for this feature.
Effectiveness
In the independent tests, AVG Internet Security scored well, particularly when it came to protection.
AV-Comparatives awarded AVG the "Advanced+" rating.
AV-Test scored AVG Internet Security at 15 out of 18 points, which is only slightly lower than leading competitors BitDefender and Kaspersky.
Performance
Boot-time on a system with AVG installed took just 6 percent longer than without any security installed, at around 44 seconds. This is almost half the time that most security suites can add to boot-time, and is almost a full 10 seconds faster than BitDefender Internet Security, so AVG's claims about the lightweight nature of the package certainly ring true. Their claims that it actually speeds up your PC are hard to gauge, but there certainly wasn't a noticeable slowing down when browsing, in fact browsing was quicker than when using the majority of other suites, so AVG Internet Security scores highly here.
Features
Social Networking Protection – Unique tool that can scan links on social media sites such as Facebook or Twitter, to detect malicious links and files.
AVG Accelerator – Tool to increase the connectivity of your computer, that can increase Flash and HD video downloads, specifically on Youtube and download.com.
Game mode – Offers non-stop protection during gaming without the lags and freezes that scanning can cause.
Help & support
Substantial support is provided by AVG in the way of online chat, telephone and email, plus users can connect with AVG via popular social media (Twitter, Facebook, LinkedIn). There is also a virtual assistant, AVG TechBuddy, that provides help with common problems users might face.
Overall
AVG Internet Security is a very competent security suite and is a definite improvement on recent versions, with faster scanning speeds, less impact on computer performance and fantastic Antivirus software. While malware detection is good, removal could be improved, and the out-dated firewall must be considered by AVG for their next suite if they want to compete with the top products.
---
Looking for more internet security software reviews?
See our side-by-side comparisons and in-depth reviews