Review summary
Good points
• Good malware detection
• Effective parental controls
Bad points
• Heavy impact on system performance
• Poor malware removal rate
Our verdict
McAfee Internet Security goes some way to restoring the faith in the company due to its excellent malware detection and blocking, coupled with the low cost this suite can be purchased at. However, sluggish performance and poor malware removal/repair means that this McAfee package can't compete with the top suites available in today's market.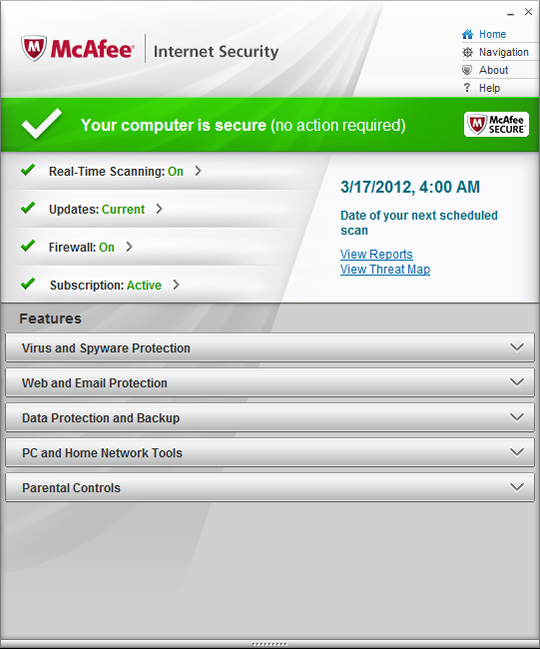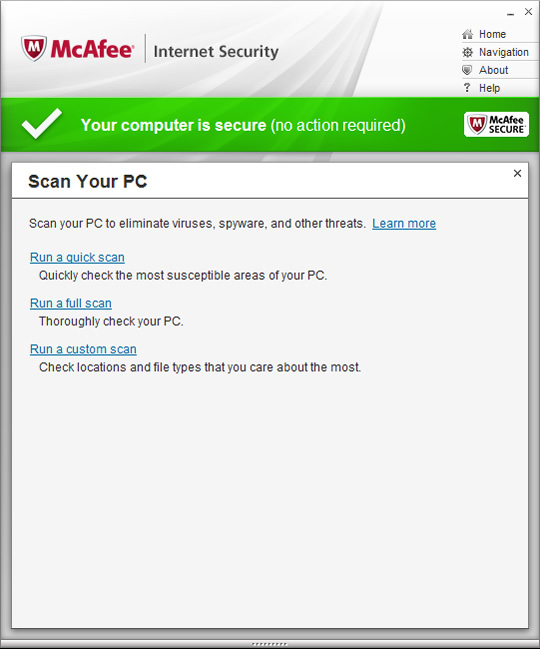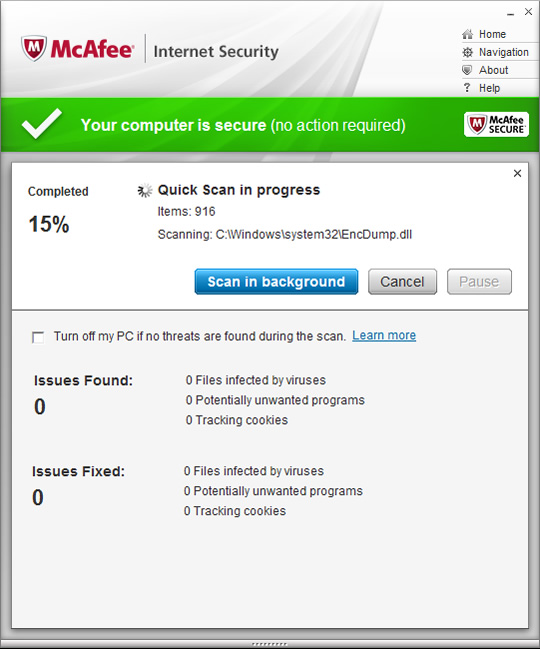 Full review
McAfee have been providing internet security solutions since 1987, and up until 2010, had a reputation for providing solid security for your machines. In 2010 however, their reputation was damaged when hackers exploited a problem with detection update for their anti-virus software, causing issues with thousands of users. Since then, they have been working hard to re-establish themselves in a fiercely competitive market, and here we take a look at their latest product, McAfee Internet Security, to see how far they have come.
Setup
McAfee Internet Security can be quick to install, with just a few steps to go through until it is ready to run. One thing that could slow down this process is that it will download the latest software version, as well as checking your machine for possible malware, before it starts the install. While this can add extra time to the installation, it's a worthy process and shows how seriously McAfee take the issue of malware problems.
The interface on McAfee Internet Security is simple to navigate initially, with a clean, if not a little basic, control panel. Once you start to delve a little deeper however, we found the panel became unnecessarily cluttered, especially in the Navigation Centre.
Protection
McAfee Internet Security offers protection against viruses, Trojans, spyware, rootkits, scans/blocks dangerous emails and also blocks botnet software. The McAfee Active Protection looks at any material it deems suspicious and determines the risk to your computer, offering some real-time protection.
Firewall - The two-way firewall included with McAfee Internet Security offers a good level of protection, but it does have some annoying elements, such as asking users which apps to allow/deny access to. This is a fairly old fashioned system that a lot of firewalls have done away with, but fortunately apart from this, the McAfee firewall performs well.
Parental controls - As we know, parental controls are a priority for users with families, so it is good to see that McAfee include a robust parental control system that can be configured easily enough by even basic users. It is important that each child has an individual user account however, as this is the way that the McAfee parental controls are set up. All the basics are here, you can control the amount of time each child spends on the internet, as well as blocking specific sites or types of sites. The new surfing report shows parents how long each user has spent on the internet, number of time blocked sites have tried to be accessed and log in times.
Effectiveness
AV-Test and AV-Comparatives have so far only tested the McAfee Total Protection 2012 (an upgrade from McAfee Internet Security 2012) and so the independent results will be different to the suite we are looking at. However, it was noted that this upgraded package scored poorly on removal, and only just above average on protection.
The malware detection on McAfee Internet Security was very good, detecting 99.3% of known malware samples and blocking 97% of malware in real world tests. These results are some of the best we have seen so far this year, it is just a shame that McAfee cannot perform as well when it comes to malware removal and repair, as these results were well below average, completely removing all trace of malware at a rate of 70%.
Performance
Overall, McAfee Internet Security had an above average impact on our system's performance, adding on average one minute to each application we installed with McAfee installed. Boot and shutdown times weren't affected too badly, with the McAfee suite adding approximately 20 seconds to boot and around 15 seconds to shut down. Scan speeds were fairly slow, with the on-demand scanner taking just over 2 minutes, and a full scan around 2 and a half hours. There was a noticeable slow down when browsing, and during gaming there was quite a bit of lag when playing some of the more system-heavy games.
Features
Digital Date Shredder – This feature will permanently destroy sensitive files, useful if you sell or donate your machine when you eventually upgrade.
PC Tune Up – Finds and removes unused apps and cached browser files to increase system performance.
Help & support
McAfee offer online support and live chat, though this is quite difficult to find on their website. Telephone numbers are even harder to find, so email or live chat is the best way to deal with any issues you may encounter.
Overall
We can see that McAfee has worked hard to provide a complete internet security suite, but unfortunately it only does certain things very well, and the rest is fairly average. The low cost and good parental controls will definitely make this an attractive option for some users (especially families), but there are other packages out there that have better parental controls at the same cost, and packages that will offer more protection for your machine without the impact on its performance, so this is a difficult one to recommend at the moment.
Looking for internet security software reviews?
See our side-by-side comparisons and in-depth reviews