Review summary
Good points
• Excellent malware detection and removal
• High-level security at relatively low cost
• Excellent performance speeds
• Intelligent firewall that is easy to use
Bad points
• Slow installation and initial scanning speeds
• Navigation can be tricky
Our verdict
ESET Internet Security is a solid security suite that provides all the usual anti-virus and anti-spyware protection, combined with high level detection and an effective intelligent firewall. It is very competitively priced, which makes up for the lack of extras provided, but the core security features here are of a very high standard.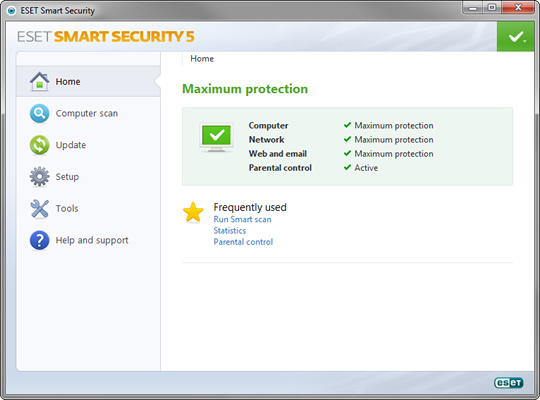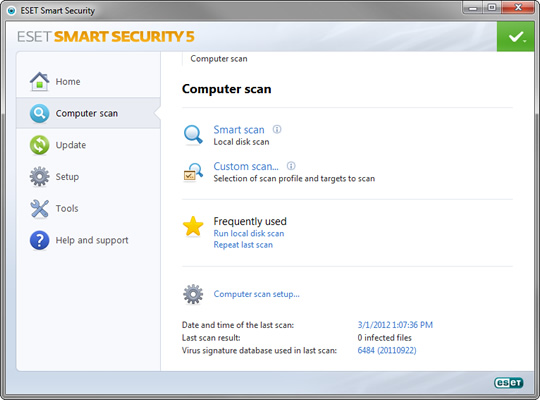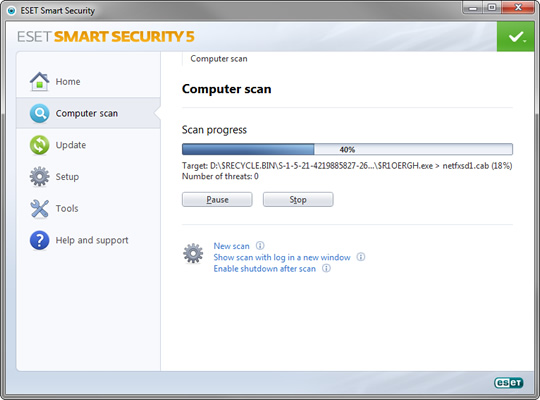 Full review
Following almost three years since the first version was released, veteran Internet Security provider ESET returned with the ESET Internet Security. After this relatively long time period in the fast-changing world of Internet Security, we were very keen to see how ESET had improved upon the popular 6th suite.
Setup
While installation is fairly simple, and registration is carried out from the suite, as a pose to the browser, the initial setup was actually slower than expected. While not the slowest out there, it can't quite compete with the sub one minute installations you get from the Norton ranges. Still, it is simple enough and shouldn't cause the average user too many problems.
Protection
Anti-virus - ESET Internet Security detects the usual viruses, spyware, keyloggers, adware, spam, Trojans and phishers effectively, while the adaptive ThreatSense technology used by ESET should combat any emerging threats that hackers may employ. ESET uses a cloud based malware detection engine. This compares your data to trusted files compiled by ESET, gathered from over 100 million ESET users, and in turn, leads to quicker and more accurate malware detection.
Firewall - Using the advanced settings it is possible to customize the firewall's behavior and manage intrusion detection. This intelligent firewall very quickly learns how your computer is used, and adapts extremely well to give better, uninterupted internet browsing.
Parental Controls - Using the parental control tools provided you can restrict access to websites by a specific category (such as adult, gambling, shopping etc.) or by individual URLs. You can also manage and restrict how much time your child spends online.
Effectiveness
AV-Test has certified ESET Internet Security and gave it a score of 11 points out of 18. ESET has lost ground in recent AV-Test reports to competitors such as BitDefender and Kaspersky who achieved much higher marks.
AV-Comparatives awarded Internet Security "Advanced+".
ICSA labs have certified ESET for Anti-virus cleaning and anti-spyware.
ESET Internet Security has passed every certification and real-time performance test by West Coast Labs in 2012.
UK Independent Virus Bulletin awarded ESET it's "VB100 award" in December 2011 making it an impressive 50 consecutive award wins.
Performance
During our tests, initial scans were a little slow, but subsequent scans improved in speed by almost 30 minutes. Our computer's boot time was slowed down by an average of 18 seconds, which is faster than the majority of IS suites we tested in 2011. Shutdown time was barely affected, slowing down by only six seconds. More importantly to most users, performance speed remained solid during background scans.
Features
Gamer Mode - Allows uninterrupted streaming and game playing, as with this mode activated, ESET Internet Security will pause any scans and halt notifications.
Removable Media Control - Allows you to prevent malware infection from USB keys and external drives, by blocking device ID.
Training – Useful tips and techniques via ESET Cybersecurity training, that uses real world crime scenarios to train and help make your online experience even safer.
Ease of use
The interface layout has barely changed since the last version, and it is still not the easiest suite to navigate for even the most discerning user. Given the length of time between the previous and latest release of ESET Internet Security, it is surprising that ESET have not ironed out these little annoyances and made a more user-friendly navigation system.
Help & support
One negative is that do not provide live chat support, which we would have welcomed here. Extensive online support is provided in the way of a user guides, updates, a user forum, articles, educational videos, support news and more. As with most large companies these days, ESET make you go through their online support before you can contact them directly.
Overall
Overall we would say that if you are looking for a solid, no frills internet security suite that is light on ancillary features but heavy on core performance, you could do far worse than the ESET Internet Security, especially taking into consideration the low price compared to it's major competitors.
Add your review
You've heard our opinion. Now we're keen to hear your personal experience of using this software.
Looking for internet security software reviews?
See our side-by-side comparisons and in-depth reviews